Price:
Non-Member: $191.25
UHMS Member: Regular: $148.75
UHMS Member: Associate: $106.25
UHMS Member: NBDHMT Credit Only Rate: $37.50
Table of Contents
| | |
| --- | --- |
| Lecture | Minutes |
| Blood Flow, Away with Osteo and Oxygen to Go | 17 |
| Hyperbaric Oxygen Therapy for Inflammatory Bowel Disease | 22 |
| The Thailand Cave Rescue | 25 |
| Public Safety Diving | 40 |
| A Novel Approach to Creating a Chronic Wound | 42 |
| Clinical Hyperbaric Facility Accreditation | 35 |
| The Use of Hyperbaric Oxygen in Small Animal Internal Medicine | 56 |
| Enhanced Brain and Concussion Recovery | 59 |
| Ear Barotrauma; A Patient Educational Opportunity | 23 |
| Hyperbaric Oxygen Therapy: Delayed Treatment of Crush Injury | 11 |
| Treatment of Soft Tissue Radionecrosis with HBO2 Prior to 6 Months Completion of Radiation | 14 |
| The Use of HBO2 in Treatment of a Degloving Plantar Pad Crushing/Avulsion Injury | 9 |
| The Use of UVC in Multi-place Hyperbaric Facilities | 27 |
| Offloading for Success | 57 |
| Material Safety Testing | 29 |
| Northeast Registry Update | 30 |
Estimated time to complete this activity: 8.5 hours
Accreditation Statement: The Undersea and Hyperbaric Medical Society is accredited by the Accreditation Council for Continuing Medical Education (ACCME) to provide continuing medical education for physicians.
Disclosure: All faculty members and planners participating in continuing medical education activities sponsored by UHMS are expected to disclose to the participants any relevant financial relationships with commercial interests. Full disclosure of faculty and planner relevant financial relationships will be made at the activity.
Designation Statements (CME/CEU Approvals):
Physician CME: The Undersea & Hyperbaric Medical Society designates this enduring material for a maximum of 8.5 AMA PRA Category 1 CreditsTM. Physicians should claim only the credit commensurate with the extent of their participation in the activity.
MOC ABPM: The American Board of Preventive Medicine (ABPM) has approved this activity for a maximum of 8.5 LLSA credits towards ABPM MOC Part II requirements.
Nursing/RRT: This enduring material is approved for 8.5 contact hours provided by Florida Board of Registered Nursing/RRT Provider #50-10881.
For NBDHMT: This enduring material is approved for 3 Category A credit hours by National Board of Diving and Hyperbaric Medical Technology, 9 Medical Park, Suite 440, Columbia, South Carolina 29203
"CHT re-certification requires a minimum of nine of the minimum 12 Category A credits relate directly to any combination of hyperbaric operations, related technical aspects and chamber safety."
Termination Date: January 11, 2024
Disclaimer: The information provided by this CME material is for Continuing Medical Education purposes only. The lecture content, statements or opinions expressed however, do not necessarily represent those of the Undersea and Hyperbaric Medical Society (UHMS), its affiliates or its employees.
Goal: For over 40 years the UHMS has been the primary source of information for hyperbaric medicine and physiology worldwide. This enduring material has as its goal to address identified professional practice gaps and provide a quality CME opportunity which will improve scientific knowledge and skills for hyperbaric and wound care: physicians, nurses and technicians, and other clinicians and personnel whose practice includes hyperbaric medicine and wound care.
Target Audience – physicians, nurses, CHT's or anyone with an interest in diving, hyperbaric oxygen therapy or wound care.
All individuals in control of content for this educational activity with their relevant financial relationship disclosed are listed below. ACCME defines a relevant financial relationship "as financial relationships in any amount occurring within the past 12 months that create a conflict of interest." An individual who refuses to disclose relevant financial relationships will be disqualified from being a planning committee member, a teacher, or an author of CME, and cannot have control of, or responsibility for, the development, management, presentation or evaluation of the CME activity.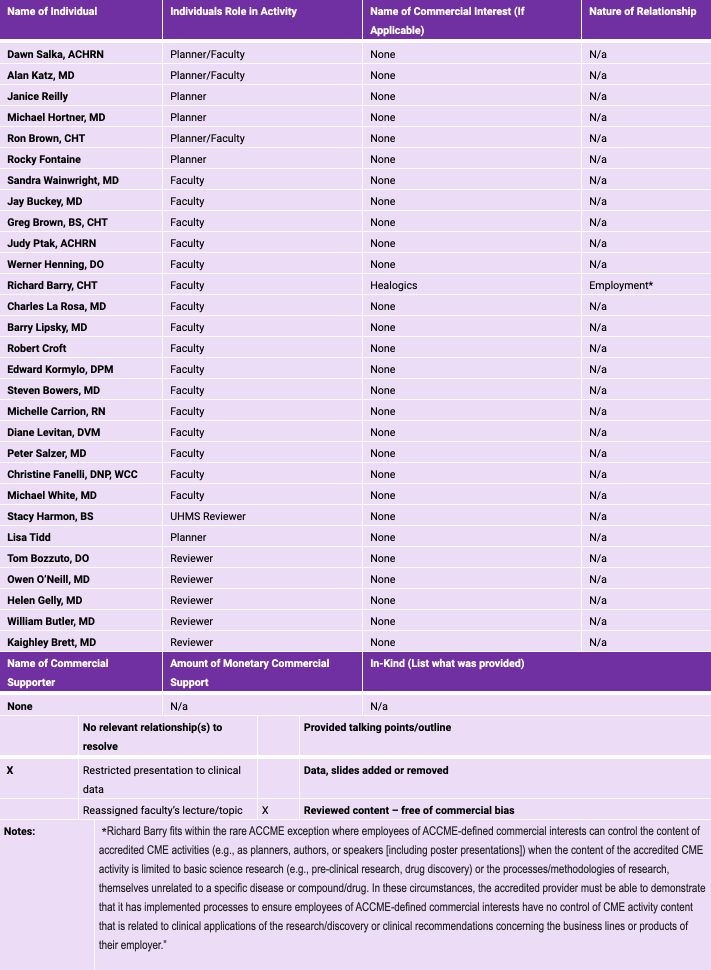 Note: The below affiliations were as of 2018 when the video recording took place and may have changed since the release of this enduring material.
Charles La Rosa, MD
Charles A. LaRosa, MD, FACS is the Medical Director of the Brookhaven Memorial Hospital Center for Wound Care and Hyperbaric Medicine at Hauppauge, NY and the Chief of Vascular Surgery at Good Samaritan Hospital in West Islip, New York. He is board certified in general and vascular surgery and a fellow of the American Professional Wound Care Association. He is the President of the Long Island Wound Healing Association.
Objectives: Blood Flow, Away with Osteo and Oxygen to Go
The speaker will review the CMS NCD requirements for hyperbaric oxygen therapy in diabetic wounds of the lower extremities as an adjunct to conventional wound care treatments. Assessment of vascular status and means of optimization, medical and surgical management of infection, and local wound care and utilization of skin substitutes will be presented in discussion of a case study.
The participants will be able to assess vascular insufficiency in diabetics with lower extremity wounds.
The participants will have enhanced knowledge of the means of arterial revascularization in diabetics with lower extremity wounds.
The participants will understand the use of aggressive treatment measures to manage osteomyelitis and the wound bed in diabetics with lower extremity wounds in preparation for adjunctive hyperbaric oxygen therapy.
Jay Buckey, MD
Dr. Jay Buckey is a professor of medicine at the Geisel School of Medicine at Dartmouth and directs the hyperbaric medicine program at the Dartmouth-Hitchcock Medical Center.
Objectives: Hyperbaric Oxygen Therapy for Inflammatory Bowel Disease
Recent data suggest HBO2 may be useful for some patients with inflammatory bowel disease. This talk will review the recent research and provide practical guidance.
Review the data supporting the use of HBO2 in inflammatory bowel disease.
Present the results of recent trials of HBO2 for ulcerative colitis.
Barry Lipsky, EMT
Since his certification in 1968, Barry has over 1,000 dives worldwide. He went on to become a Certified Public Safety Diving Instructor for Team Lifeguard Systems (LGS), a National Association of Underwater Instructors (NAUI) Dive Instructor, and an American Canadian Underwater Certification (ACUC) Dive Instructor.
Barry lends his passion of diving to his community serving as a Trainer in Public Safety Diving, Rapid Deployment Search & Rescue/Recovery, and Surface Ice Rescue I and II programs with Team Lifeguard Systems since 2006. He's the lead Dive Team Captain for Bayport Fire Department where he also serves as a Firefighter and EMT.
Barry is a proud Alumni of Mississippi State University and went on to do his graduate work at CW Post College on Long Island. He is honored to be serving his eight year as the President of the prestigious Long Island Diver's Association (LIDA).
Objectives: The Thailand Cave Rescue
A story of ordinary people from all over the world coming together in a remote town in Northern Thailand with one mission: to save 12 young boys and their coach.
Understand why strangers would volunteer to risk their lives to save the life of someone else's child.
Objectives: Public Safety Diving
Present the different Water Rescue Disciplines.
Provide real examples of water rescues in a typical water front community.
Sandra Wainwright, MD
Dr. Sandra Wainwright is currently the Medical Director of the Hyperbaric and wound care center at Greenwich hospital part of the Yale New Health System. She is also currently serving as Member at Large for the UHM.
Objectives: A Novel Approach to Creating a Chronic Wound
As our patient population ages, the effects of sun exposure and added comorbidities make LE skin cancer treatment a challenging process. Local radiation is a minimally invasive modality to manage some of these lesions, however, wound centers are seeing more cases of chronic non healing wounds because of radiation to the distal 1/3 of the leg. This talk discusses the diagnosis, pathophysiology, treatment and outcomes of this new modality.
To review LE anatomical structures and vascular supply.
To review the types of common LE skin cancers and surgical/non-surgical treatment options.
To review a case series of patients with LE radiation treatment of non-melanoma skin cancers and study timeline for healing.
To discuss treatment options.
Peter Salzer, MD
Peter A. Salzer, MD, FACS, ABPM, UHM, CWSP has 43 years general, vascular surgery, would care and hyperbaric medicine experience and 7 years as a UHMS surveyor.
Objectives: Clinical Hyperbaric Facility Accreditation
Review UHMS accreditation survey procedures, survey probes and survey scopes.
Diane Levitan, DVM
Dr. Levitan has been a veterinarian for 27 years. She is a board certified internal medicine specialist for small animals. She has many loves in the profession, but her passion for hyperbaric oxygen therapy is surpassed by few. She has been using it in pets for over 12 years and remains amazed by its efficacy on every patient. Dr. Levitan currently owns a small animal general practice with boutique internal medicine services including ultrasound of the chest and abdomen of patients, endoscopy, interventional radiology, dentistry, CT imaging and much more. She is thrilled to be speaking with you all today.
Objectives: The Use of Hyperabric Oxygen in Small Animal Internal Medicine
This lecture will cover the many different uses of hyperbaric oxygen therapy in small animal veterinary medicine. This will discuss the many options that could also be applied just as successfully in human patients. The justification for use, similarities and differences found in veterinary medicine to human medicine. Fun pictures and great information.
Review uses of hyperbaric oxygen in veterinary medicine.
Understand rationale for use in veterinary medicine.
Review applications for human issues compared to pets.
Alan Katz, MD
Objectives: Enhanced Brain and Concussion Recovery
We live in a world where all individuals face the risk of head injuries on a daily basis. Articles and news reports appear regularly discussing the recognition of traumatic brain injuries and the preventative measures that can be used to lessen impact. Newer modalities are emerging which will allow us to better identify injury. Additionally, multiple techniques exist to assist with brain retraining. Hyperbaric oxygen therapy is now emerging as the key management tool for brain repair when integrated into a comprehensive concussion recovery program.
Upon completion of this lecture, participants should be better able to recognize, investigate, and treat mild traumatic brain injury.
All will more fully appreciate the integration of Hyperbaric Oxygen Therapy into a comprehensive brain recovery program.
Michelle Carrion, RN
I have been in nursing since 1986. Med surg and operating room nursing prior to transitioning to wound care. I have worked in the Wound Care and Hyperbaric Medicine Center, part of Lancaster General Hospital in Lancaster, PA since 2004. I have done HBO2 since that time. Became the Clinical Safety Specialist/Safety Director since 2016. Graduated in Eastern Mennonite University RN-BSN program in 2018.
Objectives: Ear Barotrauma: An Educational Opportunity
Outpatient HBO2 patients may have decreased otic barotrauma if early education is provided on ear clearing techniques. Printed material to take home will reinforce the education provided by the nursing and tech staff at initial patient consult
Participants will gain an insight into the value of patient education in prevention of otic barotrauma.
The utilization of written materials may facilitate patient comprehension and patient participation/usage.
Steven Bowers, MD
I am currently the Network Medical Director of Wound and Hyperbaric Medicine at St. Luke's University Health Network. I am certified by the American Board of Wound Healing in both wound care and hyperbaric medicine, and I am a fellow of the American Professional Wound Care Association. I am a member of the American College of Hyperbaric Medicine and currently the Chair of their Research Foundation and Committee.
Objectives: Hyperbaric Oxygen Therapy: Delayed Treatment of Crush Injury
and
Objectives: Treatment of Soft Tissue Radionecrosis with HBO2 Prior to 6 Months Completion of Radiation
I am doing two case presentations on treatments with HBO2 that are slightly off label
Understand the use of HBO2 in crush injuries.
Understand the use of HBO2 in radiation injuries.
Edward J. Kormylo, DPM
Dr. Edward Kormylo, DPM, Board Certified in foot and ankle surgery, in practice for over 38 years on Long Island NY, currently working in Wound Care and Hyperbarics at the center he started at Brookhaven Memorial Hospital in Patchogue NY.
Objectives: The Use of HBO2 in Treatment of a Degloving Plantar Pad Crushing/Avulsion Injury
The use of multiple modalities for crush injury to the foot of a 25 year old, otherwise healthy, male from admission to the ED to discharge. The process reviews multiple wound care surgical aspects, the use of bio engineered skin substitutes, complex wound care processes and supplemental HBO2 to support healing through all these modalities.
Using Hyperbaric Medicine for traumatic degloving.
Wound Care considerations for traumatic degloving.
Gregory Brown, CHT
My name is Greg Brown and I am a Hyperbaric Chamber Specialist at Duke University Medical Center. I started in October of 2017 and before that I worked at Hennepin County Medical Center (HCMC) as a Certified Hyperbaric Technologist, one of the Safety Directors, and with the Emergency Medical Services at the new Vikings US Bank Stadium. I also worked for Allina Health as an Advanced Emergency Medical Technician on 911 rigs in the Wright County area. I started in the medical field as a first responder and combat medic in the U.S. Army as an Infantryman in Ft. Stewart, GA. I was deployed numerous times and to 6 different combat zones. After coming back from Iraq in 2010 I moved to Annandale, MN and joined the volunteer fire department as a Firefighter I and First Responder. I also got hired onto Allina Health's EMS service and soon became and EMT & EMT-I. This and scuba diving lead me into the hyperbaric department at Allina's Abbott Northwestern Hospital (ANH). My monoplace experience started in 2009 at ANH and my multiplace experience started in 2012 at HCMC. Working at Duke has added a whole new level of multiplace hyperbaric chamber experience that has included research, writing my first publication, and acquiring grant money for new projects like UV-C.
Objectives: The Use of UVC in Multi-place Hyperbaric Facilities
This lecture is about what ultraviolet wavelengths are, why UV-C is important in the hospital setting, the history of UV-C, and how this can be useful to us in hyperbarics and wound care.
To further everyone's understanding of UV-C and the history of it.
To show that certain UV-C machines can be used safely in the hyperbaric department around acrylic.
Michael White, MD
I am double boarded in Family Medicine and Undersea and Hyperbaric Medicine. I have been involved in wound care since 2006.
Objectives: Offloading for Success
Review of relevant offloading pathophysiology, techniques, and equipment for wound healing.
Recognize the need for offloading in the treatment of diabetic foot ulcers and pressure injuries.
Increase awareness of offloading strategies, techniques, tools, and devices to increase the chance of wound healing.
Richard Barry, CHT
Richard Barry is CHT-A and a certified safety trained supervisor and holds a master's degree in safety sciences. Also, Richard is on track to defend his Ph.D. in safety in mid-2019. Today he will provide an update regarding the materials tested by the UHMS MTAC.
Objectives: Materials Safety Testing
Updates from the UHMS Material Testing Advisory Committee.
To provide the audience with the latest information regarding testing of products for use in oxygen-enriched atmospheres by the UHMS Material Testing Advisory Committee.
To provide the audience with an understanding of autogenous ignition temperature with regards to oxygen compatibility testing.
Judy Ptak, ACHRN
I have been working in hyperbaric medicine since 2011. Currently clinic RN and Safety Director.
Objectives: Northeast Registry Update
This talk will review progress of the International Hyperbaric Outcomes registry.
Review the importance of registries for advancing hyperbaric medicine.
Provide information on how to join the registry.
Offer information on what information the registry will provide.
Computer with internet connection and a modern, updated browser
Note: If using IE 6, IE 7, or IE 8 we cannot guarantee that the courses will work.
Audio speakers to listen to the lectures
Keyboard to take the quizzes
This enduring material event is produced for online use, and was created using the following platforms:
Video format: MP4 video; High Definition; hosted on Vimeo.com
Aspect Ratio: frame width 1280p x height 720p
Audio: Sample Rate 48k Hz; Bit rate 189 kbps; Channels 2 (stereo)
Frames per second: 29 frames per second
Provider Contact Information
If at any time during participation in this online CME enduring material event, a learner can contact UHMS, by clicking on "Contact Us" tab located on the far right-hand side of the main menu bar found at the top of the screen. Also, the contact phone number and email address (hotlink) is always displayed on the top center of the screen, under the main menu bar.
Undersea and Hyperbaric Medical Society (UHMS)
631 U.S. Highway 1, Suite 307
North Palm Beach, FL 33408
USA
Phone: +1-919- 490-5140/877- 533-8467
Fax: +1-919- 490-5140
Email: uhms@uhms.org
Policy on Privacy and Confidentiality. It is the policy of the UHMS not to release any participants' name or contact information. As a registered member of UHMS, the organization will occasionally send out electronic correspondence relating to continuing educational events.
Copyright. For the purposes of this enduring material event, UHMS owns the rights to the recorded live event and distribution rights for the video material and write/copy-protected presentations. UHMS will NOT be distributing the individual editable presentations in PowerPoint format as it does not own the rights to the source material for the individual presentations.