General Information
The course content follows the approved curriculum of the Diving Medical Advisory Committee (DMAC), the European Diving Technology Committee (EDTC), and the European Committee of Hyperbaric Medicine (ECHM) so to reflect a uniformly balanced and internationally recognized program of instruction. This course has been approved by the Diving Medical Advisory Committee and the European Diving Technology Committee (DMAC/EDTCmed) as a Level 1 - Medical Examiner of Divers course. This is a specific training course preparing physicians to examine commercial, sport, research, and other related public service divers, and determine their fitness to dive.
Course Goal
The goal of this course is to prepare physicians to examine professional, sport, research and other related public service divers, and determine their fitness to dive.
Course Topics
Hyperbaric Physics
Hyperbaric Pathophysiology of Immersion
Pathophysiology of Decompression
Inert Gas Narcosis and Oxygen Toxicity
Characteristics of Various Divers
Diving Equipment
Regulations and Standards for Diving
Commercial Diving and Practical Demonstration
Dive Tables and Computers; Flying After Diving
Professional and Recreational Fitness Standards
Non-Dysbaric Diving Pathology
Medications Under Pressure
High Pressure Nervous Syndrome (HPNS)
Acute Dysbaric Disorders
Long Term Health Effects
Diver Incidents and Accidents
Fitness to Dive Standards
EKG Assessment
Fitness to Dive (Including Pulmonary Function Tests)
Fitness to Dive Assessment Cases
Other course information
You will be required to bring a laptop or ipad/tablet. This is needed so you can take the online exam and to follow along with the lectures, as you wish. Paper copies of the exam will be available.
You will be provided with a web link to access all the lecture presentations & handouts. At the course, you will be given a jump drive with the same information on the web link.
You will be given a notebook to take notes (this notebook will have just the lecture topics and objectives).
Hotel Information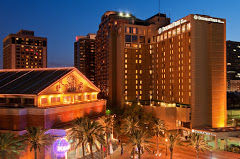 Doubletree by Hilton New Orleans
300 Canal Street
New Orleans, LA 70103
Online Reservations:
General Reservations: toll-free number 1-800-HILTONS
Group code/name to use when calling general reservations:
Group code: UHM
Group name: Undersea & Hyperbaric Medical Society - Medical Examiner of Divers CME Training

Reservation cut-off date:

Friday, August 28, 2020
ROOM RATES:
| | | | | |
| --- | --- | --- | --- | --- |
| Room | Single Rate | Double Rate | Triple Rate | Quad Rate |
| Standard King | $ 142.00 | $ 142.00 | $ 152.00 | $ 162.00 |
| Standard Queen / Queen | $ 142.00 | $ 142.00 | $ 152.00 | $ 162.00 |
| Oversized Junior Suite – King Bed | $ 142.00 | $ 142.00 | $ 152.00 | $ 162.00 |
Your room must be secured with a valid credit card or company check. Reservations must be canceled 72 hours prior to arrival date in order to avoid a one night's cancellation penalty.
Guest Room Taxes: Group agrees to pay any and all applicable federal, state, municipal or other taxes, fees, or assessments imposed on or applicable to Group's Event. Currently, the sales tax rate is 16.20%, and the hotel occupancy tax rate is $2 (subject to change without notice). Hotel will honor any available tax exemptions for which Group qualifies, provided that Group properly completes and timely provides all documentation required by the applicable jurisdiction to substantiate the exemption.
Early Departure Fee: If a guest who has requested a room within the Room Block checks out prior to the guest's reserved checkout date, the Hotel will add an early checkout fee to that guest's individual account (currently, $75). Guests wishing to avoid an early checkout fee should advise the Hotel at or before check-in of any change in planned length of stay.
Complimentary wireless internet in all guest rooms and meeting space
Check-in: 4:00 pm / Check-out: 11:00 am
Smoking: Non-Smoking - 100% Non-Smoking Hotel
Parking: Car or SUV valet parking is available at the prevailing parking rate at the time of check-in with in and out privileges; Rates and taxes are subject to change without notice. An additional fee will apply for oversized vehicles. Hotel does not offer bus/motor coach parking. Current valet parking rates are $44.00 per night, plus tax.
Parking near the hotel: Parking Panda ParkWhiz
This New Orleans hotel boasts a convenient location between the French Quarter and the Arts District in downtown New Orleans. Enjoy the best of both worlds with easy access to the city's top restaurants and entertainment venues. Dozens of New Orleans attractions and countless shops, art galleries, and museums only minutes away. Spend an evening in Harrah's Casino, or take a stroll around the lively French Quarter. The most famous street in the French Quarter is the historic Bourbon Street, just four blocks from this New Orleans, LA hotel. Discover more about a bug's life at the Audubon Insectarium, or find out about the life aquatic at the nearby Audubon Aquarium. The knowledgeable staff at DoubleTree by Hilton Hotel New Orleans are happy to assist you in planning all your sightseeing, transportation, and entertainment needs; from jazz joints to riverboat rides.
TRAVEL/TRANSPORTATION:
Airport: Louis Armstrong New Orleans (MSY)
Ground Transportation- Taxicabs, Airport Shuttle, Buses and more.
| | |
| --- | --- |
| TYPE | TYPICAL MINIMUM CHARGE |
| Limousine | 50.00 USD |
| Super Shuttle | 28.00 USD |
| Taxi | 33.00 USD |
Rental Information- Rental cars information and links
Uber and Lyft also pick up at the Airport
LOCATION:
New Orleans is a Louisiana city on the Mississippi River, near the Gulf of Mexico. Nicknamed the "Big Easy," it's known for its round-the-clock nightlife, vibrant live-music scene and spicy, singular cuisine reflecting its history as a melting pot of French, African and American cultures. Embodying its festive spirit is Mardi Gras, the late-winter carnival famed for raucous costumed parades and street parties.
Must See
Don't leave the city without a visit to Café Du Monde and a cup of classic café au lait — along with the landmark shop's powdered beignets. Open 24 hours a day, the store even sells coffee and beignet mix for home. When your mind needs a break from business, visit The Audubon Aquarium of the Americas to experience sea life in the Gulf. The interactive stingray touch pool is not to be missed.
Must Do
Spend time in New Orleans in April to take part in the French Quarter Festival. Enjoy live performances from dozens of stages, taste unique food from local establishments, and celebrate the culture of this vibrant city. Any time of year is great for a stroll down to the riverfront to see the mighty Mississippi, and visit historic Jackson Square and the breathtaking St. Louis Cathedral.
What's New
Leave your car and hop on the newly renovated Streetcar for a nostalgic tour of the Big Easy. The line stops right outside the hotel at Canal and Carondolet and forms an arcing railway through the "Crescent City." Visit the beautiful garden district and take in the grandeur of antebellum mansions from the comfort of the cars. The line is currently expanding to more areas of this great city.
Don't Go Home Without
Whether you choose a self-guided excursion, scenic carriage ride, pub-crawl or haunted expedition, don't go home without a proper tour of the French Quarter. Popular stops can include Jackson Square, the Historic French Market and Mardi Gras World.
Tips
Getting around New Orleans by car can be difficult, so you might want to consider leaving your car at home. The Streetcar offers easy transportation, including the Central Business District and the riverfront area. Bourbon Street is easy to walk, and the weather is fairly moderate year round. Dress light for summer visits and have a jacket on hand for fall and winter.
FEES:
Member Fee - $995
Member Renewal: Sat & Sun Only - $525
Non-Member Fee - $1095
Non-Member Renewal: Sat & Sun Only - $575
Nurse Practitioner/Physician Assistant - $650
RN/CHT/DMT/EMP - $475
CANCELLATION / REFUND POLICY:
$100 administrative fee will be held on all MEETING(S)/COURSE(S) cancellations from the time you register, until 60 days prior to the meeting/course date. From 59 days to one (1) month prior, 50% of fees will be held on all cancellations. NO REFUNDS will be issued one (1) month before or after the meeting/course date.
SCHEDULE:
posted 5/23/19 (subject to change)
THURSDAY, SEPTEMBER 17
7:00-8:00
Continental Breakfast
7:30-7:45
Pre-Course Survey
John Freiberger, MD
7:45-8:00
Faculty, Participant & Course Introduction
John Freiberger, MD
8:00–8:30
Cases to Keep in Mind
John Freiberger, MD
8:30–9:15
Hyperbaric Physics
Davut Savaser, MD
9:15–10:15
Diving Related Physiology (gases)
John Freiberger, MD
10:15–10:30
Q & A with the faculty
Faculty
10:30–11:30
Diving Related Physiology (immersion)
John Freiberger, MD
11:30-12:30
Recreational/Technical/Military Diving & Equipment
Brian Keuski, MD
12:30–1:30
Lunch – On Own
1:30-2:30
Dive Tables and Computers; Flying After Diving
Bruce Derrick, MD
2:30-4:00
Commercial Diving, Equipment, Diver Characteristics
Tony Alleman, MD
4:00-5:00
Practical Application of Dive Tables & HBO Physics
Brian Keuski, MD
5:00-6:00
Q&A with faculty, Exam #1
Faculty
6:00-7:00
Welcome Reception
FRIDAY, SEPTEMBER 18
8:00–9:00
Transport to EPIC Divers
9:00–12:00
Epic Divers Commercial Diving Lecture and Practical Demonstrations
Billy Bratowski
12:00–1:00
Transport to Hotel
1:00-2:00
Lunch – On Own
2:00-2:45
Inert Gas Narcosis, High Pressure Nervous Syndrome
John Freiberger, MD
2:45-3:30
Acute Dysbaric Disorders
Bruce Derrick, MD
3:30-4:15
Oxygen Toxicity
Bruce Derrick, MD
4:15-4:45
Non-Dysbaric Diving Disorders
Davut Savaser, MD
4:45-5:15
Long Term Health Effects of Diving
Davut Savaser, MD
5:15-6:30
Q&A with faculty, Exam #2
Faculty
SATURDAY, SEPTEMBER 19
07:30-08:30
Continental Breakfast
8:00–9:00
Commercial Diver Examination, Forms & Procedures
Tony Alleman, MD
9:00-10:00
Diving Focused Physical Examination
Davut Savaser, MD
10:00-11:00
Audiograms
Tony Alleman, MD
11:00-11:45
Pulmonary Function Testing
Brian Keuski, MD
11:45-12:00
Q & A with the faculty
Faculty
12:00–1:00
Lunch – On Own
1:00-1:45
ECG Assessment
Bruce Derrick, MD
1:45-2:15
Scientific and Public Safety Diving Regulations
Bruce Derrick, MD
2:15-3:00
Medications and Diving
Tony Alleman, MD
3:00-3:45
A Physician's Approach to Fitness to Dive (recreational)
Davut Savaser, MD
3:45-5:15
Fitness to Dive Assessment Cases 1
Brian Keuski, MD
5:15-6:15
Q&A with faculty, Exam #3
Faculty
SUNDAY, SEPTEMBER 20
7:00-8:00
Continental Breakfast
7:30-8:30
Cases from the Gulf of Mexico
Tony Alleman, MD
8:30-10:00
Fitness to Dive Assessment Cases 2
John Freiberger, MD
10:00-1:30
Q&A with faculty, Exam #4, Closure
Faculty
Snacks/drinks will be provided each day